Bangladeshi TV Channels
List of Bangladeshi TV channels including ATN Bangla, ETV, Bangla Vision, Channel i and Independent TV. Watch some of the following Live Bangladeshi TV channels online from their website.
Bangladeshi TV Channels
ATN News is a leading 24-hour news TV channel in Bangla.

Founded in 1998 Ekushey Television is the first private television channel in Bangladesh.

Bangladeshi national TV channel broadcast from Dhaka.

Sangsad Bangladesh

Parliamentary TV channel owned by Government of Bangladesh.
Most of the above Bangladeshi TV Channels are privately owned and transmits from Dhaka as well as North America, Europe, Australia, and the Middle-East. Sangshad Television and Bangladesh Television (BTV) are two terrestrial TV channels in the country.
See also
Kolkata Newspapers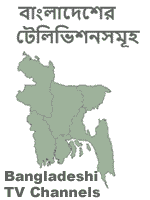 Bangladesh Television (BTV) is state-owned national TV station. BTV started broadcasting on 25 December 1964.
Newspapers by regions