Bangla Newspapers
Bangla News Sites
Bangladesh has a plethora of Bangla news sites that offer continuous updates on news and information. Among them, bdnews24, bd24live, banglanews24, and banglatribune stand out as the largest and most prominent ones.
Regional Newspapers in Bangladesh
Most of the national daily newspapers in Bangladesh are published in Dhaka. Other big cities including Chittagong, Sylhet, Rajshahi, Rangpur, Khulna, Mymensingh and Comilla also published few daily newspapers. However almost all other cities have at least one local print newspaper as well as Bangla news websites. A local or regional newspaper serves a region and plays an important role in the local communities.
Bangladeshi Newspapers in English
Over the last thirty years, the rise in literacy and economic growth in Bangladesh has led to a growth in the number of English-language newspapers. These newspapers typically feature regular sections on opinion/editorial, politics, business, sports, education, and entertainment. For readers who favor English-language content, there are various English newspapers to choose from, with The Daily Star and The Independent being two prominent and influential ones in the country.
BD News Agencies
About Bangladeshi Newspapers
Bangladeshi newspapers play a vital role in the country's media landscape, providing news, information, and analysis on various topics that impact society, politics, economy, culture, and more. They cater to readers in both Bangla (Bengali) and English languages, reflecting the linguistic diversity of the nation.
Here are some key points about Bangladeshi newspapers:
Language: Bangla is the official language of Bangladesh, and a majority of the population prefers to read newspapers in their native language. As a result, there are numerous Bangla newspapers available across the country.
Dailies and Weeklies: Bangladesh has a mix of daily newspapers and weekly publications. Daily newspapers are more common, and they provide regular updates on current affairs, politics, sports, entertainment, and other topics of interest.
Popular Bangla Newspapers: Some of the most prominent Bangla newspapers include Prothom Alo, Daily Ittefaq, Bangladesh Pratidin, Jugantor, Kaler Kantho, Samakal, and Amader Shomoy, among others.
Print Circulation and Readership: Print newspapers still hold significant relevance in Bangladesh, and people of various age groups and backgrounds rely on newspapers for their daily dose of news and information.
Online Presence: With the advent of the internet and growing digitalization, many Bangladeshi newspapers have established their online presence. They maintain websites and e-paper editions to cater to a wider audience. Additionally, Bangladesh has several popular news portals that provide real-time updates on current events, politics, business, sports, entertainment, and more.
Bangladeshi newspapers continue to evolve with changing times, adopting new technologies to reach a wider audience. They serve as an essential source of information and play an influential role in shaping public opinion and fostering democratic values in the country.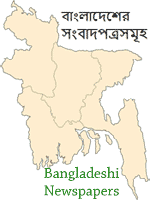 Read latest BD news online from following news sites:
Business news
Bangla radio channels
Daily Star, New Age, and Independent are top selling English-language newspapers in Bangladesh.